Using images to boost your financial PR program
By Sheryl Gudelsky, Senior Account Agent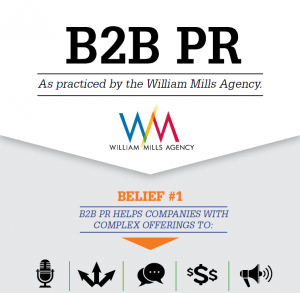 It has now become common for William Mills Agency associates to receive requests from editors and reporters along the lines of, "Is there an illustration you can provide along with the article?" Or, "Do you have any graphics to support this piece?"
Some publications are seeking assistance to illustrate the pages of their magazine or for their website; however, others have let us know that now they require article contributors to also submit a graphical element. This typically means more than an executive headshot or company logo.
Today, the financial trade media is looking for companies to share captivating graphics that support industry trends and timely issues in a way that is attractive and easy to understand. This requires some added time and effort, but quality images can bring numerous advantages to a company's PR program and future media coverage.
A Picture is Worth a Thousand Words
In the PR world, we traditionally use press releases and case studies to promote new technologies or describe how services and solutions are being used. While written materials will always be a tried and true way to communicate with editors and reporters, in today's digital era the media wants more than a word-based description.
Having color, high resolution, JPEG images on hand of a product or the technology or, better yet, the solution in use, allows your PR team to support written messages with evidence. A nice photo might simply help the reporter to better comprehend a product and its intended use, or it might be something they wish to print. If the latter, it is hard to imagine any company that would not consider seeing a photo of their solution printed in a trade publication as a significant win. So, consider the long term benefits of hiring a professional photographer to take pictures of your facility or the end-user in action, and then work with your PR team to leverage them to pique the media's interest.
Create Your Own Infographics
Infographics – or any graphic, chart or visual representation of information or data – are quickly becoming a compelling way for companies in the financial services industry to present complex information quickly and clearly. Infographics give readers a snapshot of key information in a visually appealingly way; perfect for busy professionals who might not have time to read a publication cover to cover. The good news is that you do not need to be a graphic designer to build simple infographics that look good and will capture the media's attention. Many websites, such as infogr.am, are free and offer programs that design an appropriate visual based on the information you wish to display. Alternatively, if you have more complex data to represent or are looking for visual components consistent with your company's brand, reach out to your PR/marketing design team for help. Regardless, both routes allow you to create a timeline or a flow chart to show how your product works, construct a chart to represent the increasing demand for your service based on industry research or even present your own unique data sets in such a way that is eye-catching and more easily understood.
Repurpose Marketing Materials
More companies are also relying on charts and infographics to enhance their marketing and sales collateral. In this case, ensure your PR team receives any materials created internally so they can be repurposed for the media. Rather than start from scratch, your PR team can take these materials and develop strategies and messaging around them, recommending tweaks as needed to make the images more enticing or relevant for the media.
The financial trade publications that your prospects read are striving to represent relevant news in a visual way, and it is important to work with your PR team to determine how the data and knowledge already on hand can be graphically delivered. Companies in the financial services space are accustomed to simplifying multifaceted, intricate information and ideas. They should be able to rely on their PR partners to translate their most compelling insight into simplified images that will help them best capture the media's attention and resonate with their target audiences.