Parallels between PR and online dating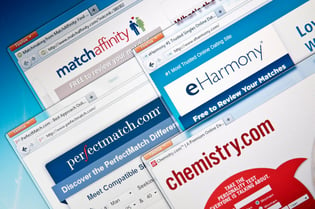 Match. eHarmony. Tinder. OkCupid. Hinge. The list of online dating sites and apps is endless. Today, one in ten American adults is registered with an online dating service in their quest to find their match. But that doesn't mean those millions of people registered online would turn down a date with a nice, good looking person who they happened to hit it off with at Starbucks. They are still open to meeting people the way their mothers envisioned they would…at church, at the grocery store, in school. Online dating merely presents another channel to finding "the one."
Same goes for promoting your company. Are you merely relying on one form of communication to gain customers? Good luck. Do you depend on word of mouth or throw all your money toward advertising waiting for all your customers to find you? You'll be waiting awhile. And if you're smart enough to pursue public relations, do you think the phone will be ringing off the hook once you issue your first press release? Hope not. The point is, you can't rely exclusively on one channel to find your future spouse, I mean customers. You need an integrated communications plan to circulate your message in different forms. And those different forms better talk to one another and speak the same language.
Evolve with the times
Singles evaluate online dating differently today; there is no longer a stigma attached to it. Financial institutions evaluate products and services differently today; they do more of their own due diligence up front. Before engaging with any new service provider, buyers research heavily online to compare different products and services. That is why it is so important to drive prospects to your company's website by coupling public relations with content marketing. By leveraging PR, SEO, blogging and social media, your message grows legs and covers more ground to reach more people.
For any relationship to work, you must know what you're looking for before dating anyone. For any integrated communications plan to work, you must clearly identify your business goals and target market before developing your company's content. Only by setting actionable and reasonable goals and benchmarks can you measure the performance of the communications plan. Not only must the content serve to complement these business goals, the timeline by which you disseminate that content must be highly calculated and strategic in which to reach the right audience at the right time. A process-driven and coordinated plan of action must be developed to turn visitors into leads.
If you want to get serious with anyone while dating, you need to do more of the things that you know your significant other enjoys. If you want to get serious with business leads, you have to track the content that seems to resonate most with prospects. One very effective way to do this is to use an advanced content marketing automation platform to implement all the supporting marketing tactics in a single platform, monitor performance and measure ROI. That way you can objectively evaluate the success of the program and reset goals if necessary. An automation platform will supply you with the raw data in which to fully understand which messages resonate with your audience. Obviously you will want to develop more content comparable to the messaging that makes the most impact and eliminate the content that fails to garner much attention. The goal is always to create the most buzz surrounding your content through multiple touch points.
Stay committed
If you want a serious, long-term relationship, you have to stop playing games. Just like with dating, you have to stay top of mind with prospects by communicating with them on a daily basis. There are plenty of fish in the sea, so force yourself to really stand out among the competition as opposed to sporadically reaching out to prospects. Stay committed and keep that prospect's interest with a steady output of meaningful news and content that focuses on how you can solve their pain points. Fill your pipeline with content by sending out at least three Tweets and one LinkedIn message a day, two press releases per month, as well as steady interviews, bylines, whitepapers and blog posts.
You cannot predict how you are going to meet Mr. or Ms. Right, so you have to put yourself out there through multiple channels. You may meet him or her on the street, or you may swipe right on Tinder. You may reach him or her through a press release, or it may be through a relevant whitepaper. But don't put all your eggs in one basket and leave it up to chance. By incorporating a strategic content marketing plan, you extend the impact of your public relations program to broaden awareness, generate leads and convert those qualified leads into customers via your online channels. Make your quality content live longer and touch more future customers. Don't let "the one" get away.