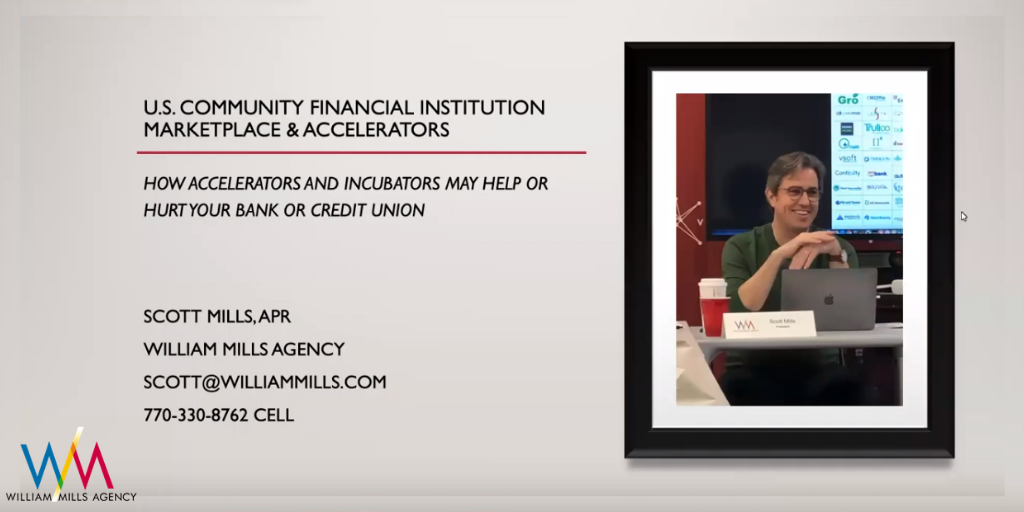 WMA president Scott Mills spoke at the Sawyers & Jacobs 2019 Bank Tech Summit in Memphis, Tennessee about how fintech accelerators and incubators can be of service to community financial institutions. While initially, community financial institutions were skeptical in evaluating fintechs as friend or foe, in light of the rapid pace of technological change and consumer expectations, community banks and credit unions are increasingly recognizing the value of working closely with technologically advanced, agile fintechs. In his presentation, Scott discussed how accelerators and incubators are providing a path for these partnerships.
Scott kindly recorded a second version of his presentation as a webinar for those who weren't able to attend the Bank Tech Summit, which you can view here.
Rather than viewing each other as competition, banks and fintechs are now realizing that their relationship may actually be more symbiotic in nature. A survey of U.S. consumers by Marqeta reveals that a mere 14% of Americans use a digital bank exclusively. A majority of respondents cited a perceived lack of security as the main reason they would not put all of their money in a digital-only bank. Yet, nearly half use a digital banking service alongside their primary bank and, of those, a majority prefer the service of their digital bank.
So the data would suggest that while consumers aren't ready to work only with fintechs, they are simultaneously frustrated with the outdated technology provided by many smaller institutions. This would seem to promote fintechs and FIs working together as the obvious solution, but, as Scott points out, there are inherent challenges in making this work. Most notably, the structure of fintechs and traditional financial institutions are inherently different. While fintechs are able (and very willing) to quickly pivot, financial institutions have many more operational layers and regulatory issues to consider. Further, because a majority of fintechs have failed as businesses to date, financial institutions are keen to create partnership with accelerators and/or incubators that enable them to find viable, well-funded fintech vendors.
In this presentation, Scott presents ten accelerator/incubator programs in the United States and highlights a few successful fintech and banktech companies that they have produced. He also provides an overview of how accelerators and incubators work, and how an institution that is interested in partnership can better evaluate them. Institutions interested in facilitating their assessment of potential fintech partners should find this information helpful.