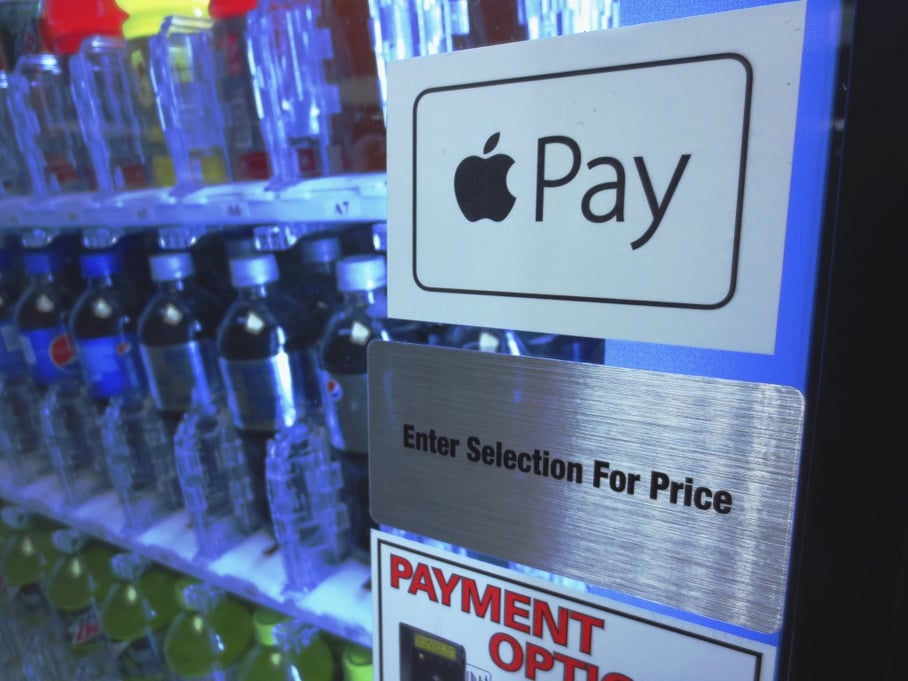 Each year William Mills Agency invests considerable time and resources to research and better understand the trends occurring within the financial industry. From what we discovered, it seems that more investment is flowing into financial and payment technology solutions than in years past, especially when it comes to technology around the mobile wallet, such as Apple Pay.
Apple Pay made the biggest splash in mobile payments in the three months of 2014 it was available. We predicted the concept of mobile wallets and mobile payments would gain traction throughout the year, but now it is expected to grow even more quickly than many originally thought. According to Business Insider, in-store mobile payments volume will top $800 billion by 2019.
Only merchants that have special near-field communication (NFC) pads can support Apple Pay, but a survey from Boston Retail Partners indicates that nearly 40% of all large U.S. retailers have already adopted the technology necessary to accept mobile payments from Apple Pay and similar apps, or plan to by the end of next year. In reality, it only takes a handful of large retailers to drive an explosion in mobile payment volume. The trick will be to see if consumers really want to use it. (It is still really easy to pull out a plastic card.)
More than 750 banks and financial institutions support the service and more are requesting partnerships. In January, Bank of America announced that more than 800,000 customers had activated upwards of 1.1 million credit cards via Apple Pay. A month later Chase Bank disclosed that more than 1 million of its customers had already provisioned debit and/or credit cards with Apple Pay.
One reason behind the quick acceptance is the increase in security the NFC-based solution offers. According to Apple, when you add a credit or debit card with Apple Pay, the actual card numbers are not stored on the device or on Apple servers. Instead, a unique Device Account Number is assigned, encrypted and securely stored in the Secure Element on an iPhone or Apple Watch. Each transaction is authorized with a one-time unique number using your Device Account Number and instead of using the security code from the back of your card, Apple Pay creates a dynamic security code to securely validate each transaction. The privacy of purchases is also more secure than when using traditional credit cards because Apple states that they do not save transaction information.
Instead of building an entirely new, proprietary payment method, Apple took the technology of tokenization (EMV), and created a new implementation to work with it. This means that when a merchant receives payment authorization, they are given a token that they then save in their system instead of saving your actual credit card number. This eliminates the problem of hackers stealing your number that has been stored and does so in a way that embraces industry standards and is easy for consumers to use.
For more information on this trend and other trends we see in the industry, please download William Mills Agency's Bankers as Buyers 2015, a detailed collection of research, observations and articles regarding technology solutions and services that U.S. bankers will buy in 2015.