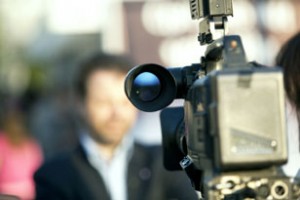 5 things to think about before you're in front of the camera
With a successful public relations strategy, credit unions can develop meaningful content through news and feature stories on a wide variety of platforms, including TV and video. Participating in a televised interview gives credit unions the opportunity to engage a broader audience than traditional print interviews and provide consumers with relevant information regarding their finances.
A unique medium, video interviews require a different level of preparation than interviews for print publications. When appearing on video, credit unions and their selected spokesperson must understand that appearance, tone and timing are crucial elements of the interview. Whether the interview is taped on site, live and in person or live via satellite, remembering these five tips will ensure a smooth, successful piece that will establish credibility for the credit union.
1) Be mindful of your messaging – Know why you're doing the interview and what you want to accomplish during that interview. Whether the interview lasts one minute or half an hour, it is critical that you are clear about the subject matter and think carefully about how the messages are being conveyed. In addition, understanding the program's audience will help you tailor your message accordingly. For instance, if the majority of viewers are primarily younger millennials, discussing strategies for retirement planning may not resonate strongly.
2) Have your first answer prepared – By knowing what you will be asked first, you can have an eloquent answer ready and start the interview on a good note, which can help build confidence. Preparing anecdotes and clever phrases will help you explain key points in an engaging way; however, it's important to note that memorizing answers should be avoided. Overly scripted answers often sound unnatural and are useless if the interviewer asks a different question or requests additional information.
3) Concise answers make better sound bites – Incorporating the interviewer's question into your response will help strengthen your answer and keep you on track, while making an excellent sound bite. Also, remember to slow down, as it's easy to speak faster than usual on camera; and avoid jargon and acronyms, which can make it difficult for viewers to understand your message.
4) Don't let your appearance outshine your expertise – Wear clothing that is comfortable and conservative, and steer clear of busy patterns, such as stripes or checked fabrics. Leave eye-catching accessories at home because they can be distracting; simple, understated jewelry is enough. Solid white should also be avoided, as it often appears harshly vivid on camera. Solid, complimentary tones, like dark blues and greens, are ideal. Also, remember to blink and hydrate; both of which are easy to forget but will help you look and feel your best.
5) Lastly, be comfortable and confident – Think clearly, act natural and display confidence. During the interview, relax and remember to breathe before you speak. Remaining calm and taking the time to think about your responses will help you make the most of this opportunity.
Ultimately, you're the expert, so let it show. By remembering the aforementioned tips, you will appear confident, dynamic and professional, which will help captivate the audience with your message.
Video interviews are valuable opportunities that empower credit unions to raise their public profile and reach a larger audience of existing and potential members. It's also important to remember that a dedicated team of media experts can help your credit union leverage such opportunities by ensuring thorough preparation for the interview and getting the most mileage possible from the resulting coverage.
Mallory Griffin is an account coordinator at William Mills Agency, the nation's largest independent public relations firm focusing exclusively on the financial services and technology industries. The agency can be followed on Twitter, Facebook, LinkedIn, or its blog.
CUES' Credit Union Management's online-only "PR Insight" column runs the first Thursday of every month.