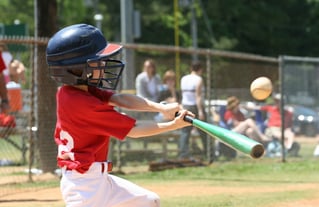 With spring arising, the season brings to mind the memory of the crack of the bat and the sound of a leather ball hitting a leather glove in the ballpark or in the back yard. Baseball has an entire culture tied up in it – movies from The Natural to Field of Dreams to The Sandlot; legends like Babe Ruth and Mickey Mantle and the nostalgia of spending a summer afternoon at the ball park with Dad.
But these memories are becoming a thing of the past, because kids are not spending the same amount of time at the ballpark. In April, the Washington Post published an in-depth look at how baseball has struggled to remain relevant to today's kids.
Chances are, if you are over the age of 50, you'll spend at least a few hours catching a baseball game on TV or taking a trek to the local ball park with your kids or grandkids. According to a 2014 Nielson study, adults 55 and older are 11 percent more likely than the overall population to say they have a strong interest in baseball.
However, the same study found that kids under 17 made up seven percent of the audience for postseason baseball games a decade ago. That number has been cut in half, with kids now making up only four percent of the audience last year. By the same token, the Washington Post report shows that participation in baseball leagues has dropped three percent in the past decade. More alarmingly, while 35 percent of children 6-12 years old participate in baseball, that number has dropped to less than 15 percent by the time they reach 13.
To battle stagnant growth amongst the future of the sport, baseball has tried everything from rule tweaks to shorten the game to having major league clubs invest heavily in youth leagues. Baseball executives know that without a pipeline of young fans who grow up playing and watching the sport, baseball may someday find itself falling even further behind football and basketball in the national consciousness.
Play Ball and Invest in the Future of Banking
Sadly, some banks make the same mistake by ignoring millennials, those born in the 1980s through the early 2000s, because there is a perception that these customers are still relatively young, burdened by student loan debt and lack financial resources to be profitable.
So why should bankers care about the next generation? Just as baseball executives know that the memories and habits built in childhood resonate long into adulthood, the habits consumers build while they are young will carry over later in life.
Reaching Millennials takes a commitment to digital channels and erasing the barriers between service channels. FICO recently released a report, Forging Lasting Relationships with Millennials, that reiterated that banks must incorporate innovation and digital channels when communicating and marketing to the youngest generation.
"While e-mail and direct mail are still the highest areas of preference for Millennials to get marketing information, social media, television ads and word-of-mouth recommendations are often 2x or 3x higher as preferences than other generational groups," the report found. "Millennials are three times more likely than customers over 50 to prefer texting for balance updates, bill payment reminders and credit limit warnings."
So while social media, text marketing and building communications messages into mobile apps may not seem to provide immediate ROI, banks that build relationships with Millennials now will be more likely to keep them as they age into more profitable customers.