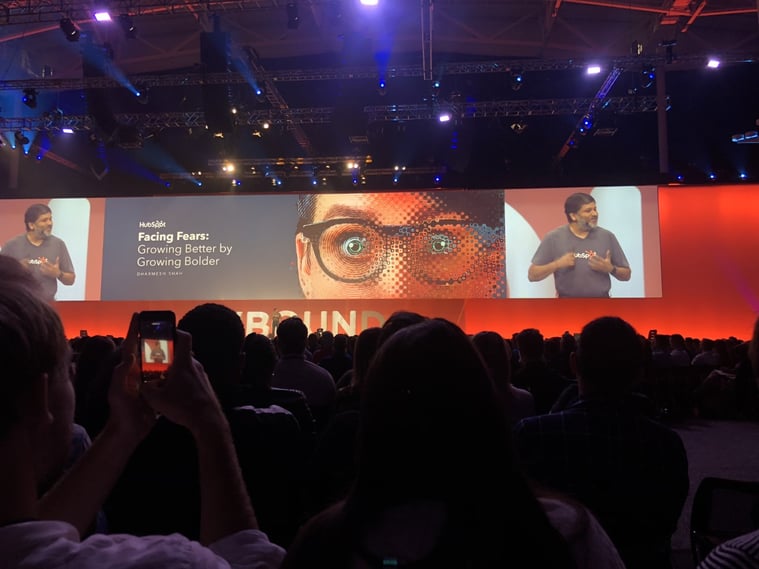 Last week, WMA attended Inbound 2019 in Boston alongside 26,000 other eager marketers. We got to hear from celebrities and thought leaders alike including actress and co-founder of Once Upon A Farm, Jennifer Garner; TV host and journalist, Katie Couric; and Bryan Stevenson, founder and executive director of the Equal Justice Initiative. Brian Halligan, founder and CEO of HubSpot, focused his attention on the emergence of what he calls "experience disruptors" -- companies like Netflix, Lyft, Chewy and DoorDash, who understand that product-market fit is no longer enough to succeed in today's market. Customer experience, or what Brian dubs "experience-market fit" has now emerged as perhaps the last remaining differentiating factor.
Darmesh Shah, HubSpot CTO and founder, took the stage to discuss what he believes are the five fears that new companies must face to grow better by growing bolder. He shared mistakes that HubSpot made early on, such as a lack of diversity in leadership and fear of disappointing. Shah explained that too much choice often creates friction, and that it's simply impossible to please everyone. Companies should fear failing to delight the many, rather than fearing disappointing the few.
Both Brian and Darmesh emphasized their fondness for startups (being startup founders themselves!) and that HubSpot has always aimed to help companies of all sizes grow better. In fact, HubSpot has implemented a few changes this year and has plans to bring even more updates to benefit smaller companies.
While no one can do everything, HubSpot is bringing partners the ability to enable anything
In 2019, HubSpot is encouraging collaboration, both between partners and with third-party apps. To this end, there have been significant improvements to the App Marketplace. Hundreds of apps have been added with easily-navigated summaries and reviews. In addition, any app developer can contribute their creation for review. This makes it easier than ever to use integrations and tools at various price points as part of a tech stack. Your WMA team is actively evaluating these new apps to determine which are best suited to serve the unique needs of our clients.
More tools available at lower price points for startups
Email and advertising are now part of the free tools offered in the HubSpot CRM, with more changes forthcoming. Companies using the free CRM can now send up to 2,000 emails per month and track up to $1,000 per month of ad spend. There have also been updates to the Marketing Hub Starter platform, including landing pages. These free and low-cost capabilities give fintech startups the opportunity to build their marketing program with reduced expenses on a platform with limitless potential to expand alongside the company. However, these greatly expanded capabilities will come with a price increase. To avoid this, you can create your Marketing Hub Starter account before November 1, 2019. Contact us if you'd like help setting up your account.
As a proud HubSpot partner, we are excited to see that the platform has continued to make improvements that benefit companies of all sizes. These latest changes will help the platform grow along with its users, from the startup stage to maturity.