Another Finovate Fall has come and gone, and the event seems to get bigger and more influential with each iteration. As always, it was an exciting opportunity to see new companies and solutions that may soon change the industry, with 60% of the companies demoing for the first time and 55% representing seed or early-stage startups. Over half of the demos were new company or product debuts featuring business intelligence, chatbots, digital banking, employee benefits, financial planning, insurance, lending, payments, risk management, security, wealth management, and more. Here are a few key trends and event highlights stood out to us.
AI & Machine Learning
Similar to Finovate Spring, machine learning and artificial intelligence dominated the stage at Finovate Fall 2019 and the seemingly endless applications of these technologies kept things interesting. Chatbots.Studio showcased an advanced AI chatbot that has the potential to act as everything from a teller to a psychiatrist. In a similar vein, Finovate veteran Boost.AI returned to demo their conversational AI tool that enables companies to automate high volumes of online support traffic. Other notable customer engagement/communication platforms include MoEngage (working with Zions), and best of show winner Glia.
Much of the discussion focused on the growing potential for banks to leverage AI and machine learning to automate simple tasks. Such opportunities were greeted with more enthusiasm than the fear and uncertainty of years past. Automating chat functions and simple self-service workflows enable customers to get faster service, which could be a tool for community/regional banks and credit unions to compete with the industry titans and disruptors.
Another unique solution showcased was myGini. The platform offers a card-linked shopping experience and increases transactions by using artificial intelligence to push customized offers to cardholders that are tailored to the retailer's brand. This solution is of particular interest to us, as it mirrors strategies that are already being used in e-commerce and advertising. Consumers increasingly expect their desires to be anticipated in all areas.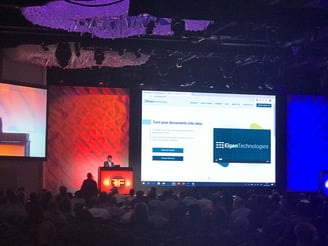 Not all of the AI/Machine Learning solutions shown were customer-facing. Eigen Technologies leverages machine learning in a natural language processing product that extracts information from diverse types of documents.
Seeing all of these solid AI and Machine Learning applications speaks to the maturity of the area and the results of our interest and funding from years past.
Financial Planning, Payments, Small Business, Data Breaches & Openness
Financial planning tools maintained a solid presence among the demos. The platforms ranged from those designed for certified financial planners, to simple apps designed to be used by consumers, and spanned use-cases from college planning to retirement. One of the "Best of Show" winners, College Aid Pro, enables advisors to more effectively help clients plan for college, citing consumer demand for increased transparency and control over their financial lives as primary drivers for this trend. Meanwhile, Zogo, a financial literacy app for kids, has investments from Techstars, as well as the former CEOs of Sageworks and Baker Hill.

On the payments front, PayFi and Exela introduced ways for financial institutions to apply real time payments, among other payment capabilities. And, small business services had a much needed voice this year. WMA client StreetShares introduced small business lending as a service, while Wise included conversations around paying employees faster.
A new trend at the show was solutions to help companies manage data breaches. BreachRx and Breach Clarity are both designed to save money recovering from the dreaded event.
Finally, a show about banking innovation would not be complete without a focus on openness. Finely demoed some App Store-style API services, while banks and fintechs discussed strategy in the summits and general sessions.
"Best of Show"
It wouldn't be a Finovate recap blog if we didn't recognize the "Best of Show" winners! Congratulations to...
The Inaugural Finovate Awards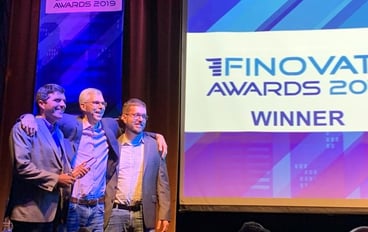 Everyone was excited to see how the Inaugural Finovate Awards would unfold, but especially WMA! Several clients were finalists and CEO William Mills was honored with a spot at the judge's table. Finovate offered several award categories, giving opportunities for companies of all sizes and industries to put their best foot forward. WMA client Kasasa took home a win for Best Consumer Lending platform!
Check out the full list of winners:
That's a wrap on Finovate Fall 2019! We hope to see you at the next one.