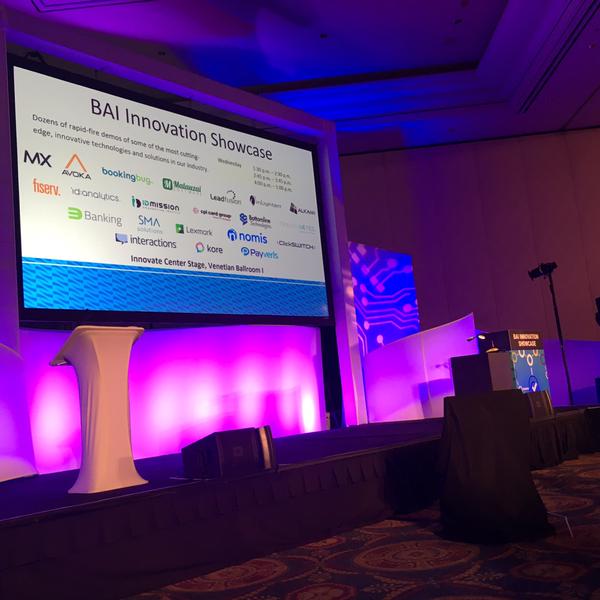 More than 200 exhibitors and more than 2,000 retail banking leaders gathered in Las Vegas earlier this month for the annual BAI Retail Delivery 2015 event to discuss industry trends and issues. The show was kicked off Tuesday morning with a packed general session featuring "Sharks" (aka hosts) of ABC's Shark Tank Barbara Corcoran and Robert Herjavec, pointing out to attendees that willingness to change will be the determining factor for who will win and who will lose in our industry. Herjavec specifically noted that to survive the future and remain competitive, you must be nimble and agile, while Corcoran emphasized the need to innovate as a key to success.
Beyond Tuesday's opening discussion, the show's focus centered heavily on all things digital as well as Millennials – not too surprising. What was surprising, however, was the limited focus on cybercrime. In one session in particular, an on-site survey revealed that cybercrime was the least concerning as a major impact on financial institutions at 11 percent, compared to mobile at nearly half (48 percent), followed by predictive analytics at 24 percent.
Adding to the eerie quietness was the low attendance at another session dedicated solely to cybercrime, which reported that a whopping $2 trillion in annual cybercrime loss is expected by 2019. Additionally, session speakers revealed that between 4,600-8,000 new vulnerabilities have been reported over the last ten years, arguing the importance for financial institutions to have plans in place for detecting cybercrime as well as dealing with the aftermath.
Digital marketing was also a big focus and emphasized by Wednesday's general session speaker Joseph Tripodi, chief marketing and commercial officer for The Coca-Cola Company. He urged attendees to recognize that real-time marketing is the new marketing.
Also notable was this year's FinTech Forward program, a collaboration of America Banker and BAI. Featuring a posh pavilion at the entrance of the expo, this year's agenda included a CEO panel moderated by Penny Crosman, editor in chief of Bank Technology News and technology editor of American Banker, plus video interviews of this year's FinTech Forward companies.
New this year was FinTech Forward's "Top Companies to Watch," spotlighting new FinTech firms disrupting through innovative ideas and new approaches to solving current problems. Companies on the list, which included several William Mills Agency clients, were Gro Solutions, nCino, Ripple, IdentityMind Global, Fenergo, InAuth, and Gigaspaces Technologies, to name a few. Be sure to check out the full list on American Banker's website.
Finally, BAI's Innovation Showcase proved insightful. Moderated by Chris Skinner, chairman of the Financial Services Club and author of Digital Bank, the showcase featured rapid-fire demos of some of the industry's most cutting-edge technology companies, from digital banking providers Alkami and Malauzai, to electronic payments company Payveris, to digital money management provider – and winner of the showcase – MX.
While this year's show garnered mixed reviews when it came to booth traffic, there is no denying the industry's strong focus on digital and innovation. My personal two cents – there needs to be more discussion around cybercrime, which was severely lacking. Regardless, the combination of veteran organizations and new startups pushing the industry forward, together, leaves me enthusiastic about next year.