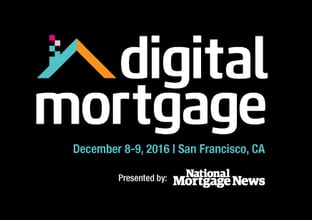 The home buying process is transforming. Digital innovation is changing the way homebuyers make an offer, handle the closing process and more.
Digital Mortgage is a new conference presented by SourceMedia. It takes place December 8-9, 2016 in San Francisco, and will be a day and a half filled with more than 35 demos from fintech startups and panel discussions featuring thought leaders in the industry. Attendees include lenders, fintech companies, service providers, consultants, venture capitalists and private equity investors.
To gain more insight into this exciting new event, we talked with Rebecca Sausner from SourceMedia.
What is Digital Mortgage and where did it come from?
Digital Mortgage 2016 is a new hybrid-style event. It is part high level, containing keynote speakers and thought leadership panels, and it is part new technology, featuring demos from more than 35 tech providers. The conference is only one day and a half, so everything is compact.
In the spring, SourceMedia put on a digital insurance show. At that show, we saw many companies on the periphery of the mortgage and the home buying process. They were looking to revolutionize the process of how consumers buy homes and mortgages in the United States. SourceMedia will showcase this digital transformation.
What gap does your event fill in the current marketplace?
Most events in the mortgage marketplace are traditional in that they feature a number of panels and thought leadership. Digital Mortgage 2016 will be a hybrid in that it will have traditional elements, but it will also incorporate demos to showcase the digital transformation.
What are you most excited about?
We are most excited about the demos. We have been writing short profiles of each company presenting, and it is fun and interesting to see how they are changing the market. We talk mostly with founders and co-founders with young companies that they are excited to introduce to the mortgage market.
Which speakers/sessions should we anticipate?
There will be 6 -8 panel discussions filled with thought leaders and solo speakers who will showcase their expertise.
We are excited about USAA in particular. They are innovation leaders in many parts of financial services, and they will be on a panel about real world transformations. We think this session will really show incumbent lenders that they too can be apart of this rapid transformation, and that you don't have to be a startup to be successful with this change.
Do you foresee any new trends emerging from this event?
The event is supported by SourceMedia's publication National Mortgage News, and will kick off market research for the publication. You will see the content beginning to focus on how the industry has transformed and what participants need to do to keep pace with the digital revolution.
What will the demo sessions look like?
Each presenter will be given 8 minutes to demo their product. There will be no PowerPoints or videos. The presenter will give a quick overview of their product and walk the audience through how it works.
We are also excited to be able to provide the presenters with a year-round marketing presence. We will video each presentation and host them on a microsite.
What about the layout? Will there be booths?
This conference will not feature a traditional show floor - there will be no booths. Each presenter will have identical kiosks around the room so everyone is on equal footing. We also have several marquee sponsors, but they do not have booths either.
Digital Mortgage 2016 is already expecting more then 700 attendees, and tickets are selling out quickly. To register for the event click here.