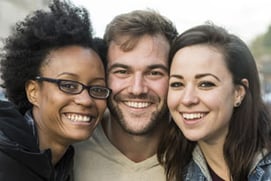 3 topics to discuss with Gen Y members through blogs, social media and video
Observing the financial struggles their parents endured, the millennial generation -- those born between the early 1980s to the early 2000s--have developed a different point of view about finances and the financial industry than those of the baby boomers or Generation X. Millennials have misgivings about Wall Street, making credit unions ideal financial institutions to capture this demographic group's business.
Credit unions have an opportunity to engage and educate millennial members about tough subjects such as budgeting, managing debt and saving for retirement, by presenting CU services through communication methods familiar to millennials: videos, social media and blogs.
Budgeting
Many credit unions have great budgeting tools on their mobile apps and websites. The next step is to communicate with millennials about the importance of budgeting and educate them on the resources available. Demonstrating how your budgeting tool works using a video, then promoting the demo over social media like Facebook is a great method to encourage members to take advantage of the tool. Making use of a blog series showing millennials how to budget for everyday expenses and save for goals is another way to educate this group.
Debt
Debt is a controversial topic for millennials since many are still struggling with student loans. It's important to make millennial members aware of the counseling services your credit union offers, as well as additional resources to educate them on the topic. An example is a blog series on the difference between good debt, such as a low-interest mortgage, and negative debt, such as high-interest credit card payments.
Another way to communicate with this group may be through real-time chat interactions or encouraging members to ask questions about loans and the different kinds of debt in a social media setting. This may be more convenient for millennial members who may not have time or the interest to visit your branch.
Retirement
Your credit union has an opportunity to engage with members through social media about the benefits of saving for retirement early on in life. Many times young adults consider planning for retirement a long-term goal that they will worry about later since they may not currently be able to save much. However, getting members thinking about this next stage in their lives is important as they transition to greater financial stability.
Educating and engaging members through such communication channels as blogging, social media and simple videos helps younger members understand that they can take certain intermediate steps right now to prepare for retirement. Once your credit union is established as a trusted source of advice, members are more likely to engage with you to discuss investing in portfolios as their financial situations improve.
As the largest generation in history, millennials play an important role in the financial industry. The goal for your credit union outreach is to provide the tools and resources they want that educate them on how to effectively manage their finances. In turn, you're building onto your existing industry reputation as a trusted financial institution, which helps create loyal, lifelong members – important as this group matures. Winning their loyalty through familiar and preferred communication tools, such as social media, blogging and video, is a great first step to securing your credit union's future with this generation.
Debbie Harris works for William Mills Agency, the nation's largest independent public relations firm focusing exclusively on the financial services and technology industries. The agency can be followed on Twitter, Facebook, LinkedIn, or its blog.
CUES' Credit Union Management's online-only "PR Insight" column runs the first Thursday of every month.