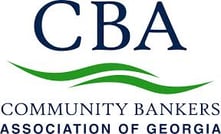 The Community Bankers Association of Georgia (CBA) held its annual spring meetings in cities across the state which this year included Macon, Hoschton and Albany (pronounced ALL-benie if you're not from around these parts). The CBA meetings bring community bankers together to discuss opportunities as well as challenges within the industry.
The meetings also support the mission of the CBA which is the preservation and development of local, independent community banks in Georgia as well as the philosophy of hometown banking. The CBA has approximately two hundred community banking members.
William Mills Agency president Scott Mills was one of three featured speakers. His presentation focused on: the impact of millennials on banking, the invisible customer and the importance of keeping up with ever-changing technology. These themes reinforce the reality that community banks encounter continuous change.
Here are some key highlights from Scott's presentation.
Hello, I'm a Millennial
Community banks are seeing the shift from the baby boomer to the millennial consumer. Millennials prefer to do things on their own terms and it's no different when it comes to banking. This is evident in how they communicate; mostly through text messaging and social media channels.
The millennial generation brings with it distinct preferences for how they wish to interact with banks and how they access accounts. It's important to know that this generation represents an estimated $200 billion in purchasing power, make up 80 million people in the U.S, and are the largest segment of the workforce. Based on sheer numbers alone, millennials are an essential segment of the overall banking population and it's critical community banks understand how this generation operates.
Innovation and the invisible customer
As technologies evolve and mobile/digital banking continue to be in demand, in-person branch transactions are declining. On average, branch transactions at community banks and credit unions have dropped 45.3 percent since 1992. A recent Javelin report noted that in 2015 the average number of mobile banking customers eclipsed the number of people going to branches. Community banks must keep abreast of customer preferences and new technologies because there isn't an opportunity to see customers in person to talk over needs or get feedback on how they would prefer to handle their banking activities.
If you are interested in getting a full copy of the presentations or speaking with Scott, contact him directly at 678-781-7201 or scott@williammills.com.