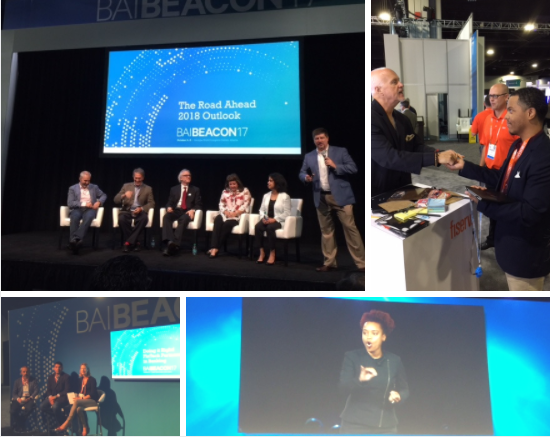 Approximately 1,300 attendees (including bankers, credit union executives, industry analysts and media representatives American Banker, Banking Exchange and BIG Media) joined 30 sponsor companies to immerse themselves in all things retail banking at BAI Beacon 2017, held at the Georgia World Congress Center October 4-5. Attendees could customize their day – picking and choosing from 70 different sessions on five separate stages featuring a wide range of topics including payments, fraud, fintech, marketing/product development, channel optimization, sales, compliance, business banking, artificial intelligence (AI) and community-based banking.
BAI Beacon's immersive, easy-to-navigate open campus layout provided a collaborative and engaging learning experience for those in attendance. The overall mood at this year's conference was one of continued innovation with conversations about the future of the industry and new technological advancements. WMA client, NCino, and its partner Salesforce leveraged the opportunity to unveil Salesforce's Financial Services Cloud for Retail Banking, which was well received.
Other conference highlights included the announcement of the Global Innovation Award winners as well as the three noted keynote speakers: David Robertson, award-winning author and Wharton professor, opened the first day of the conference with his presentation, "Going Small to Win Big," which focused on innovation; Patty McCord, former chief talent officer of Netflix, challenged the audience to reexamine the norms of everyday business policies in her presentation, "Winning in the Workplace."; and the conference closed with Crystal Washington, author, entrepreneur and technology strategist, speaking on "The Rules of Engagement – Customer Centricity in a Digital Era."
Other notable presentations at this year's event included Jim Marous of the Financial Brand; Debbie Bianucci, CEO of BAI; and Kesna Lawrence, chief data scientist of Deluxe Marketing Solutions, who led a well-attended panel on the impact of AI.
For more than 90 years, BAI has been in operation as a nonprofit, delivering trusted research, training classes as well as conferences and events to the financial services industry. Looking forward, BAI Beacon 2018 will be held at the Orange County Convention Center in Orlando, Fla. October 10-11.
William Mills III, CEO of William Mills Agency, interviews a groups of WMA associates at the BAI Beacon 2017 Conference in Atlanta. Listen to the podcast below.