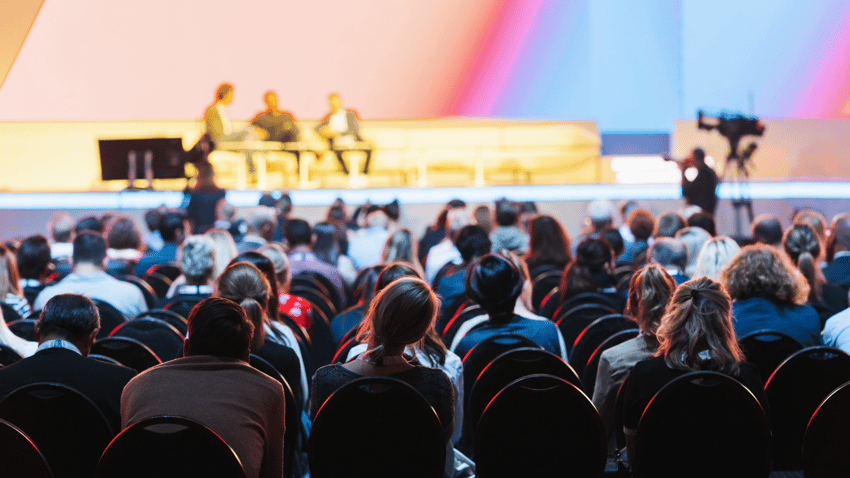 After a two-year hiatus of some shows and the introduction of virtual or hybrid models of others, we're excited about the direction that events are headed in 2023.
Recent data from Statista showcases the trend that our agency has been seeing this year, a return to in-person trade shows. Furthermore, the outlook for event growth remains positive for next year. According to an American Express Meeting & Events survey, 63% of respondents predict that attendee numbers will return to 2019 levels in the next one to two years.
From an agency standpoint, we have certainly seen a significant uptick in on-site attendance at conferences this fall – positive news for fintechs looking to reap the benefits of sponsoring, attending, or having a company presence at events next year. If you're on the fence about attending a conference, we'd like to give you the push you need to make the investment.
Conferences present an opportunity to keep your finger on the pulse of the fintech industry, better understand your audiences' pain points and gain valuable insights on trends to help you expand your knowledge as a professional or even spark an idea for organizational growth.
While digital channels like social media and email ensure that brands consistently get their message to consumers, trade shows offer something that online methods lack: personal and real-time human connection.
In-person industry trade shows afford fintechs the luxury to not simply speak to their audience, but actually engage in a conversation and hear real-time consumer feedback.
While the lead-generation element is highly attractive to business owners, networking at conferences goes well beyond building and nurturing relationships with prospects and current customers. Conferences are hubs for like-minded professionals focused on growing their businesses. Someone you meet at a trade show can become a future mentor, investor, potential strategic partner or more.
Beyond the above benefits, conferences are fun and inspire attendees to reach new heights with their businesses. By committing to a few days away from day-to-day operations, you can dedicate your sole focus on working to achieve your professional goals.
To ensure fintechs and financial services companies make the most out of their event calendar year, we've compiled our annual comprehensive directory of industry events through the end of 2023. Explore banking, credit union, payments, mortgage/lending and general fintech events by downloading our 2023 Trade Show Directory. While conferences are subject to change, we're eager to explore the evolving fintech and financial landscape in 2023.