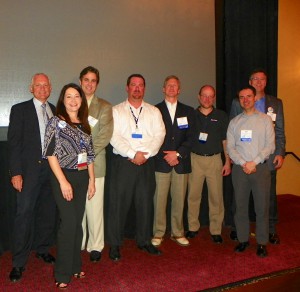 By Scott Mills
My goodness, it was a good, productive meeting for me and the agency. The registered attendees were the highest ever for a spring meeting with more than 150 guests, not including spouses. Thirty-nine of the attendees are William Mills Agency clients, so I was on reasonably good behavior.
Some of the sessions included:
Ryan Donovan, a CUNA lobbyist, discussed the dysfunction of the Senate Banking Committee and his predictions for structural changes to the CFPB. (He believes we will see some positive movement here.)
Margaret Weichert of Market Platform Dynamics shared how strong intellectual property (IP) rights help company value, both in terms of good will accounting and in sales price. IP includes patents, trademarks, copyright, industrial design protection and trade secrets. She noted that Apple stock price follows patents filed. She also shared that Japan, U.S. and China are the most prolific patent filers, but that India and Brazil are growing rapidly. Margaret also noted that 87.50% of IP suits are being brought by "patent trolls" and are usually against large banks.
Cam Fine, CEO of ICBA, painted a interesting picture of lobbying in D.C., noting that there are 45,000 lobbyists for 535 congressmen. Sadly, a typical congressman spends more time fund raising than on the floor or in their offices; and if you give money, go big – don't dribble the money in, give it all at once.
Ron Shevlin of Aite Group believes a new banking business model will emerge. Ron said "DEBANKED" is a better label than underbanked because those who willingly opt out of the traditional banking system are young, smart and looking for alternatives – not the historical view of the underbanked. He credits overdraft fees with killing traditional checking, and his research shows as many as 18% of people would SAVE money going to prepaid cards.
I'd like to thank the bank and credit union executives who participated in the "Pain I Feel" panel: Alex Jimenez, SVP – Deposit Operations and Alternative Delivery, Rockland Trust Bank (Assets $5.7B); Jeff Johnson, CIO, Baxter FCU (Assets $1B+); Jason Raymond, CIO, Prosperity Bank (Assets $800M); Richard Helber, Tropical Financial CU (Assets $574M); Chris Sawyer, President, Peoples Bank of Alabama (Assets $490M); and my capable co-moderator, Russ Bernthal, Group President, Software Solutions, ProfitStars.
I hope to see you at the fall meeting and call me if you'd like to know more about AFT.

Scott MillsScott@williammills.com678-781-7201